Redesign of Public Services at the Library (HPU project) and Learning Grid project
The HPU project got off to a good start. In the summer, in the run-up to the project's official l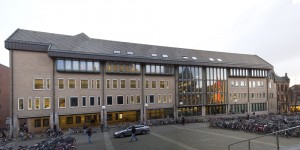 aunch, some of the members of the project group made working visits to other libraries, in search of inspiration, best practices, tips from colleagues, etc. Once the group was at 'full strength', further working visits were made. On the basis of a checklist of relevant points for attention, we looked at the libraries of the Universities of Amsterdam, Leiden, Rotterdam, Utrecht, Maastricht and Delft, and the public libraries in Amsterdam and Groningen. The project group also carried out literature research and relevant professional literature was gathered, read and summarized.
The steering group worked on drawing up a framework for the project. This has now been approved by the MT and communicated within the organization. The framework sets out important principles for the direction of the project, for example: self-service for loans processes where possible, further centralization and integration of service-desk functions, deployment of WIMmers in the front office.
The project plans make provision for a Master's student from the Faculty of Economics & Business to carry out a user survey. The survey is essential; the literature and experiences of staff in other libraries confirm this. In the period June-October 2011, the project group booked a total of 367 hours, divided among 11 people (excluding the steering group and the project leader).
Klaran Visscher
The Learning Grid project was officially launched on 27 September. The HPU project overlaps with the Learning Grid (LG) project in the sense that it is geared to the completely overhauled interior of the Library building. This has consequences for the location of the LG in the main University building, and for time planning.
At an information meeting held on 11 October, the leader of the LG project gave a presentation to 54 colleagues. A presentation on the HPU project was also given at the meeting.
At the end the 2011, the LG project group began work with background reading. In principle, the group meets every second Friday morning.
Mischa van Delden